about us
Experience the ultimate celebration of music and arts at the highly anticipated River City Rhythm & Rock Festival, the premier event in Fitchburg. This year, we are thrilled to present a dynamic and multi-disciplinary music and arts festival, in collaboration with Young Coff33 Productions and Thurston Consort. 
Join us on Saturday, September 9th, 2023, as we embark on a journey of artistic exploration at Riverfront Park. This festival is not your typical family-friendly affair; instead, it showcases a fusion of diverse musical genres and artistic disciplines that will captivate and inspire attendees of all ages. 
Brought to you by the collaborative efforts of Young Coff33 Productions and Thurston Consort, River City Rhythm & Rock Fest promises to be an extraordinary showcase of creativity, talent, and cultural richness. As we unite these two artistic powerhouses, we invite you to witness the pinnacle of artistic expression in Fitchburg. 
Immerse yourself in an eclectic blend of music, visual arts, dance, spoken word, and more. This festival transcends boundaries and pushes the boundaries of artistic expression, bringing together an ensemble of extraordinary performers and creators from various backgrounds and disciplines. 
We believe that art has the power to transform and inspire, and we are committed to providing a platform that nurtures and supports emerging and established artists alike. By highlighting the vibrant talents of our region, we aim to celebrate the diversity of artistic expression and foster an environment where creativity thrives. 
River City Rhythm & Rock Fest is not just a festival; it is a testament to the power of collaboration and community. As we come together to celebrate the arts, we also acknowledge the support and partnership of Young Coff33 Productions and Thurston Consort, whose combined expertise and vision have shaped this extraordinary event. 
Prepare to be enthralled by an immersive experience that transcends boundaries and ignites the senses. Join us at Riverfront Park on September 9th as we embark on a journey into the heart of Fitchburg's artistic landscape. Let us celebrate the transformative power of music and arts, and revel in the magic that unfolds when creativity knows no bounds. 
River City Rhythm & Rock Festival — where art comes alive.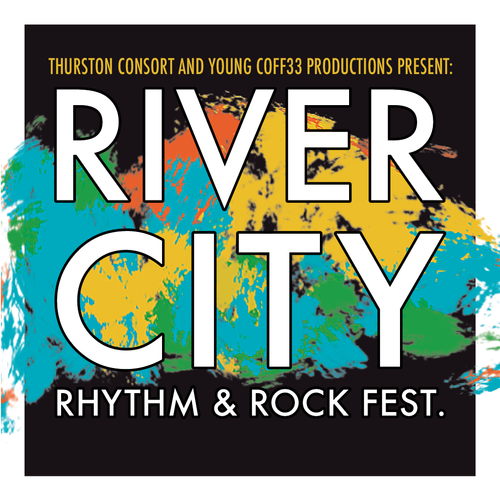 A community arts and music festival
Riverfront Park, Fitchburg, MA
Saturday September 9, 2023, 2-10pm
 Riverfront Park (off Boulder Drive) 
Main Stage 

Food Trucks

Inflatable Fun  Zone  
Mill & Cushing Street

We are delighted to present an exciting opportunity for your organization to become a valued partner of the River City Rhythm & Rock Festival. As a sponsor, you will gain unparalleled visibility at a vibrant community event that attracts a diverse audience of music and arts enthusiasts. In addition to monetary donations, we also welcome donations of products and in-kind services, providing you with various avenues to contribute to this extraordinary celebration.